Buffalo grass is among the most popular grass types in Australia and with good reason too. For one thing, Buffalo grass is tolerant to high traffic, making it ideal for homes with active families, young children, and pets that love mooching about in the yard. Additionally, buffalo grass is drought tolerant and resistant to heat, making it the ideal grass variety for Sydney's hot summers. Further to that though, buffalo is extremely low maintenance. This is ideal for those of you with busy lifestyles or who simply don't want to spend all of their spare time looking after than lawn and enjoying it instead.
That being said, there are of course some cons to buffalo grass that you should be aware of. Whilst the grass stays green late into the seasons, it does tend to brown off in the winter. Following that, it takes a while for the green to recover (late into spring). Another draw-back is that the grass can sometimes appear to be unkempt, even when it is well-maintained. That said, these are small issues when compared to the amazing benefits that comes with having such a gorgeous grass type in your lawn.
In this article, we're going to focus more on how long buffalo grass takes to establish, and then spread. We'll even throw in some handy tips on how best to grow buffalo and keep it looking fresh and healthy.
How long does buffalo grass take to establish?
Buffalo grass can take from 15 to 21 days or more to germinate. Thus, watering the lawn several times a day will be required for the duration until a healthy amount of grass is developed. We will get into best practice for caring for buffalo grass shortly but first, let's take a look at how long buffalo grass takes to spread after its initial growth.
How fast does buffalo grass spread?
Buffalo grass begins to spread after four weeks. This takes place after germination, remaining close to the ground.  When this occurs, stolons, or above-ground plant stems begin to spread across the ground rather nicely, creating the gorgeous and luscious green look for which buffalo is renowned.
How do you encourage buffalo grass to spread?
If you wish to encourage buffalo grass to spread, the best approach is occasional mowing. Of course, you must stop irrigation one or two days prior to mowing the lawn so that the soil can dry out appropriately. Once you begin mowing, it can help the buffalo grass to spread and fill in open areas. It may also help to control weeds that have begun to grow in your yard as well. Additionally, extra seed can be scratched into open or thin spots in your new lawn to bolster growth.
Tips for growing buffalo grass
What is the best way to grow buffalo grass? Well, the first 7 to 14 days are paramount! You must now allow the turf to dry out which means the soil must be kept suitably moist. You can do this by continuing to water your new lawn carefully over the next three weeks or so. After this point, less frequent yet deeper watering should take place—this is when the buffalo grass will be established and begin to spread. Once the turf has been properly established, you must be mindful of how much you water and endeavour to do so only when it is necessary.
Also, bear in mind that buffalo grass thrives in warm soil, so be sure to plant the seeds late into the springtime (between April and May), when the soil temperatures will be around 60-80°F. If you are seeding the grass yourself, as a rule of thumb, aim for 3lbs of seeds per 1,000 SQFT.
When it comes to mowing, you should aim for every 5 to 7 days throughout the summer. This will keep it extremely healthy and happy. However, if you are not so fussed about keeping it in pristine condition, then once every 2 weeks in the summer will certainly suffice.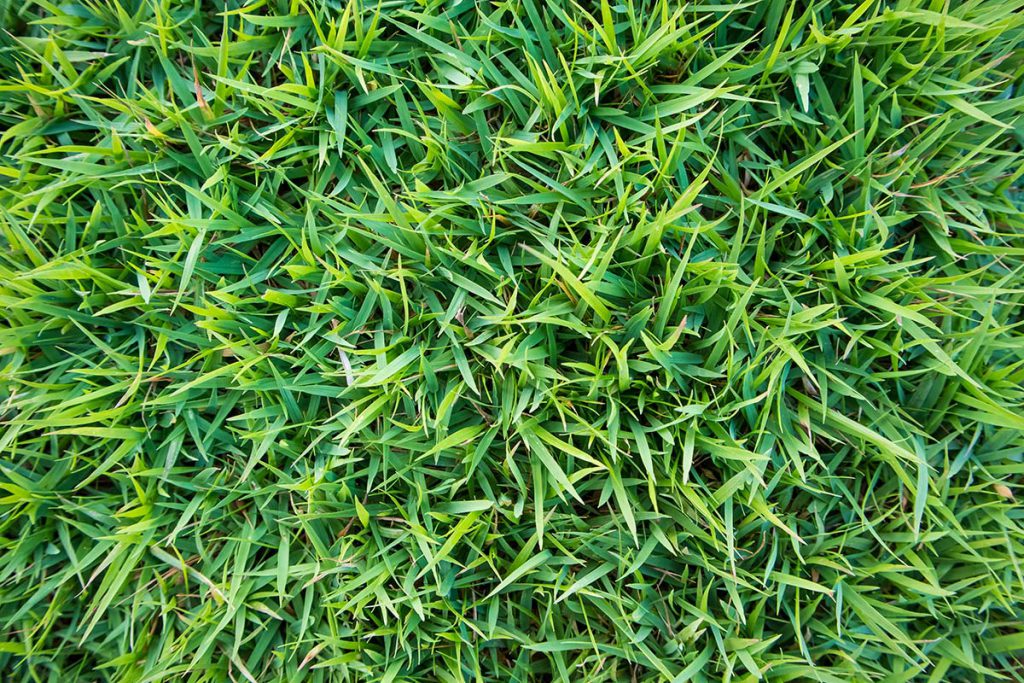 What is the best fertiliser for buffalo grass?
For the healthiest lawn, you must be sure to fertilise it when necessary. This is one of the four essential parts of keeping a lawn looking amazing. The best type of fertiliser for buffalo is a slow-release liquid lawn fertiliser. Buffalo is incredibly hardy, but it can lose its vitality during the colder months like most other grass types. Thus, using an easy-to-use liquid lawn fertiliser will bring out the best in your buffalo lawn all year round!
Why a buffalo lawn is so valuable
Remember, all of the time and effort that you put into caring for your buffalo lawn is an amazing investment. You see, a national survey that was carried out by real estate's Raine & Horne found that having a lawn can boost your home's value by up to 20%. That's a staggering amount that equates to an average of $110,000 based on Australian property values. So, not only will taking care of your lawn invariably add value to your home, but it will also increase its buy ability (should you wish to sell up in the future that is). In any case, at the very least, you will have a stunning and durable lawn that will be the envy of your neighbours!
Conclusion
To recap, a buffalo lawn can take up to 4 weeks to establish and start spreading properly. Provided you follow the lawncare tips mentioned above, you shouldn't run into any major issues with your new lawn. Should you find yourself feeling a little overwhelmed and in need of some more advice, contact a reputable lawn care specialist, and they will take excellent care of you.